LSR Model United Nations is one of the pioneers in providing a quality debating platform and contributing towards constructive discussions on matters of concern in India and the world. It organised a two day event at Lady Shri Ram College. The agenda for the committee is 'Identities with special emphasis on mental health'. Around 25 children from Rk Puram and Tuglaqabad area participated.
The idea behind this committee is to give young minds an opportunity to look into this implicit but very vital relationship between identities and mental health, and how having a positive self-identity is imperative for a healthy mind and body.
The adolescents not only participated, but also talked about what they thought about this platform.
Never thought it's an issue
14 years old Kavita, who has come from RK Puram to attend the program said, "I never thought of mental health as an issue. I always thought depression was basically someone being sad. I feel this is such an important issue. If not addressed, it can become harmful not only for the individual but also for the loved ones around them."
This place gives me space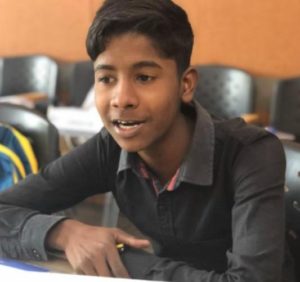 Vaibhav Kumar, a 15 year old adolescent who came from Nardan Basti said, "this is my third year of participating this program. I love being here. This place gives me the space to ask questions, to think, to debate and to learn. When I heard about how we were going to discuss mental health, I thought maybe this will involve science and biology. I'm terrible at science, so I thought this wouldn't be of my interest. Then I started learning more about it and realised how important this issue is. If we don't focus on the mental health of children like us, we are putting the future of the country at stake."
We feel lots of mental pressure
17 year old Varsha, who also hails from Nardan basti said, "I'm happy we're talking about this issue. We feel a lot of mental pressure all the time. I see my friends having breakdowns that they sometimes don't share with anyone. I feel it too. Family pressure, fights between family members, friends, the pressure of academics, and this platform helped me realise I was not alone, that we're all in this together. I always thought this wasn't something we could talk about. The process wasn't easy for us, but it was definitely very very helpful."
Also Read: UN feels, we are lagging behind to achieve Good Health Goal